Construction Document
Taking on the role of collector of the artistic process to result in a document that is meant to inspire (www.instagram.com/constructiondocument).
Ongoing experiment: The Failed Series. Participants are asked to send a failed image, the definition of failed is open. Showing what we can learn from what others consider "failed".
Looking at the point of view from others can lead to new insights for ourselves. We might see that there are aesthetic parts in imperfections.
Img: Jeroen Boomgaard, 2011, p.141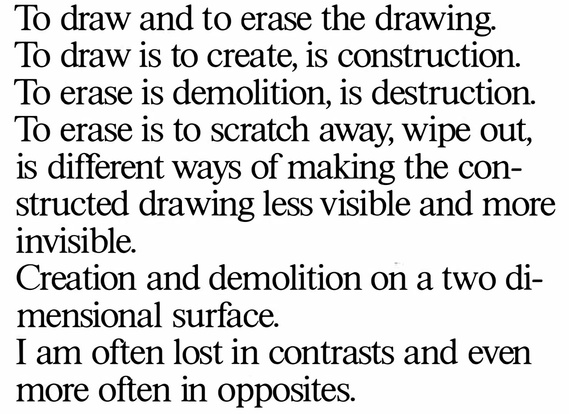 Mattia Parodi [row 1, img. 1]
"Looking back at my work, I stopped upon this image. Sometimes an optical failure can reveal something interesting. In this case, the light reveals the technical characteristics of the photographic image carving the surface (film and body) and at the same time, attempts to deny it by pushing itself out of the frame with a visible overexposure."
Zeno Gorini [row 1, img. 2 / row 4, img. 3 / row 5, img 1.]
"I went out for shooting some street photography. The more I shot, the more I get unsatisfied about the results. I stayed out hours until I started to see from a different perspective. And from dissatisfaction it came the satisfaction: finally, I found my way to enjoy playing with urban elements, lights, and people. What do I want to say? Sometimes you have to go through failure to achieve the best. Once back at home, I've desaturated the photos, and I've added a negative filter to achieve a deeper somber & enigmatic atmosphere. These shots are the ones I like the most. The main inspiration source of this series came by listening "Untrue" album by Burial."
Piergiorgio Sorgetti [row 2, img. 2]
"Something wrong and beautiful at the same time "When I find an image of mine that can be considered a failure I look at the error in it more as a lack of control that comes because I'm trying to realize an image between the one I have in my mind and the one I'm looking at. As well as the unconscious or fate or anything else we can't control in our lives, it's just part of the game, and it can make the game even more interesting!
It often happens that I look for it, I trust in whatever could come off at that moment.
I think that part of this feeling is related to the fact that I use to photograph in films, because of its grammar of latency, negative side, and chemical structure."
Special thanks to:
Amy Mooijman, Bart Roggeveen, Georges Granier, Laura Krechting, Mattia Parodi, Nevana Lukić, Piergiorgio Sorgetti, Ricardo Meyer, Sonya Kvasha, Tristan Hollingsworth, Zeno Gorini and Zoë Zoutman.